Throughout the centuries, Serra da Estrela mountains have shaped traditional ways of living and have also been shaped by a rural and pastoral human presence, in an harmony that has created the landscape and a cultural richness that we must preserve and develop.

Located in the vicinity of the Natural Park of Serra da Estrela, on the foothills of the mountains, at the genuine village of Travancinha, Chão do Rio – Green Farm Stays benefits from this unique and privileged environment.

At Chão do Rio, we believe we have the responsibility to respect and contribute to the preservation, recovery and enhancement of natural environment and culture of the region, perpetuating the memory of traditional ways of life, creating value and contributing to economic and social development of the region, benefiting future generations.

Our sustainability policy guides our actions, that's why…
We promote biodiversity ...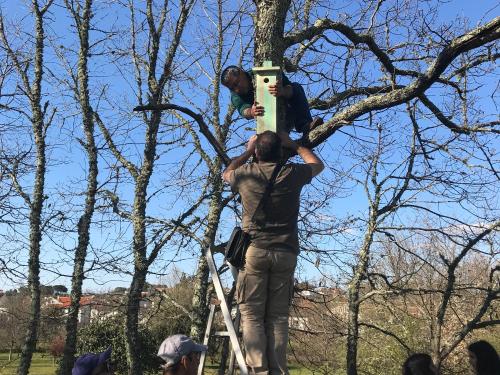 We are recovering a hardwood grove in our farm, planting acorns of native oaks;
We created ecological corridors for the circulation of wild species, through local shrub species;
We created wetlands like our "Brejo das Libelinhas" and our Biological Pool;
We created shelter areas for wild animals like rabbits and hares;
We recovered the riverside front of our property.
We encourage environmentally friendly experiences ...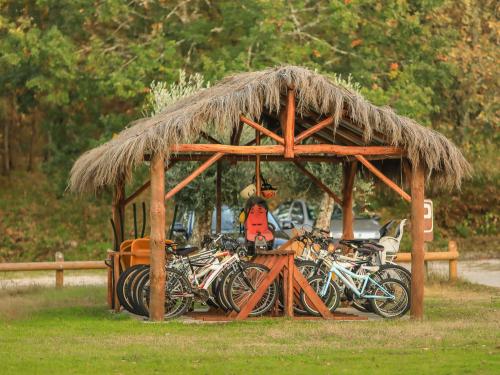 Our guests receive various proposals of experiences through local partners such as massages, photography and healthy eating workshops, Mountain Hiking, Horseback Riding and Stand Up Paddle Board no local rivers and lagoons;
We offer free use bicycles to tour in the property or in the local village;
We have created a pedestrian path where our guests are invited to walk in the middle of the magic nature;
Children may pick up eggs from the chicken coop, vegetables from our organic vegetable garden, feed the "Flor" and "Estrela" sheep or have fun on wheelbarrows' rides;
Dives between water lilies, dragonflyes and frogs in our biological pool are unforgettable;
Picnic areas, the wood oven and barbecues, transform meals into tasty playful moments of communion with nature;
We invite our guests to explore nature at all times, giving them a lantern for night walks.
We contribute to local development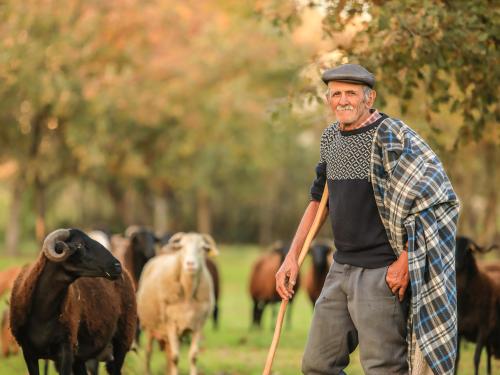 Our breakfast basket includes a wide variety of endogenous products;
In our gift shop we sell local handicrafts;
We give tourist information about the region at the reception;
We actively participate in the dissemination of Travancinha through professional photographic reports dedicated to its points of tourist interest;
Our guests are invited to meet and consume at the local village and neighboring towns establishments;
We integrate a network of local partners that offers unique animation experiences, abdicating any intermediation commissions
At times of renovation of our equipment, we donated materials in good state of conservation to social institutions located in the vicinity of Chão do Rio.
We reduce environmental impacts...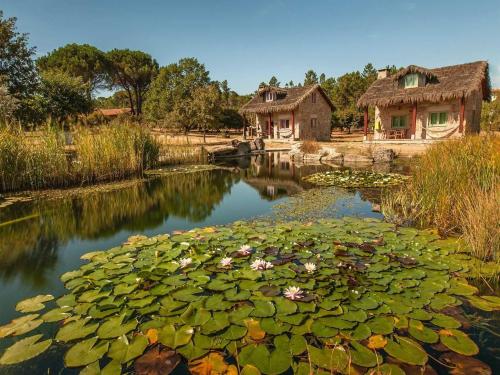 Chão do Rio houses are perfectly integrated in the natural landscape by the use of vegetal origin roofs, built using materials collected at the cleaning of the surrounding lands;
All constructions were made with sustainable materials, such as stone from local demolitions and wood;
Water heating is produced via solar panels;
Our sewers are connected to the public sewage treatment plant;
Winter heating is carried through firewood stoves;
We recycle and encourage recycling in each of the houses, through the placement of eco-points;
Lighting is effected with Led lamps;
Outdoor lighting is minimized to avoid energy consumption and light pollution;
Our "garden" is a spontaneous meadow that does not need watering;
Our chicken coop is mobile, avoiding the desertification of the soil and contributing to the natural enrichment of the feeding of our chickens;
The maintenance of external spaces is carried out using manual and mechanical means; Pesticides are never used;
Our main pool is biological, its balance being assured through the recreation of a natural ecosystem;
Our amnidades are handmade soaps produced in the region, using local raw materials;
Toilet paper and napkins are 100% recycled and of national origin;
Our customers have the option not to change towels daily, in order tp reduce water and detergents consumption;
We reduce as much as possible the paper impression of advertising materials, favoring other means of dissemination with less environmental impact;
A major factor in our procurement decisions is the number of kilometers traveled. Whenever possible, we buy locally.