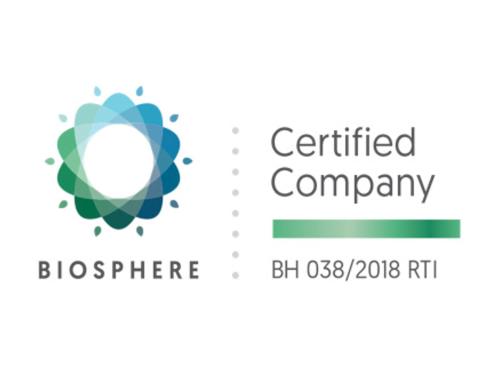 Sustainable development is development that satisfies
the needs of the present without compromising the
future generations to meet their own needs.
Bruntland Report ("Our Common Future"), 1987, adopted by the UN

The desire to contribute to sustainable development of our planet is intrinsic to the business and culture of Chão do Rio – Green Farm Stays, since this was one of the motivating axes of its creation. After a few years of existence, the certification of its sustainability practices has become essential, not only as an affirmation of such purpose, but also as a way of giving it consistency.
In spite of an abundance of sustainability references and labels in the global market of tourism, BIOSPHERE RESPONSIBLE TOURISM has naturally become the certification to be adopted, since being an internationally recognized system, it is also universally applicable, irrespective of the scale of the unit.
The Biosphere International Responsible Tourism benchmarks were the first to be recognized and accredited by the Global Sustainable Tourism Council. Biosphere Responsible Tourism is promoted and developed by the Institute for Responsible Tourism, one of the organizations responsible for promoting the principles of the World Charter for Sustainable Tourism, having established a memorandum of understanding with UNWTO and UNESCO for this purpose.
Biosphere Responsible Tourism attributes and recognizes the work in favor of Sustainability of Destinations and companies in the tourism sector, certifying its good practices of sustainability in line with its diverse international references and always looking for a strong balance between the 3 pillars of sustainability:
I. Economic
Companies should take measures to increase their efficiency and profitability so that they can continue to operate, generate employment and adequately remunerate the invested capital.
II. Social
Companies should respect human rights, promote equal opportunities, treat fairly and honestly not only their employees but all their stakeholders. It should be stressed that it is part of a sustainable social policy to include and participate in the communities in which the company operates, namely by launching and participating in local initiatives.
III. Environmental
Companies should focus their efforts on conserving and managing natural resources as well as protection of landscape and the surrounding environment. This means reducing its ecological footprint, reducing its emissions of polluting gases, betting on recycling, on the proper treatment of waste, reducing its energy and water consumption, among others.
Chão do Rio – Green Farm Stays was the first Rural Tourism unit in Portugal to achieve the Biosphere Responsible Tourism certification (in 2018, Jun).