Travancinha is a village with an old history, remaining to the present day many examples of the heritage that revels this antiquity. Using sources such as the
website of the Parish Council of Travancinha
, the
General Directorate Cultural Patrimony
 and some testimonies of residents in the village, such as Prof. Henrique Camilo, author of the texts on the website of the parish council, to whom we thank the patience and the willingness to collaborate, below we present some examples of this heritage that we can still see today, as well as some places of interest, either by its natural setting or by the evidence of a culture of a charming mountain village.
Camino romano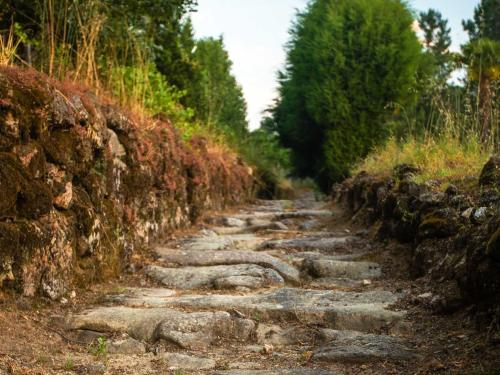 Aunque no existen estudios para establecer su verdadero origen, se supone que el camino que bordea la propiedad Chão do Rio, también conocido como "Canadá das Cerejeiras", tiene origen romano y forma parte de la vía romana "Via araocelum ad civitas Bobadela "conectando Mangualde (araocelum) a Bobadela (municipium) a través de :. Caldas da Felgueira, "Ponte do Moinho do Buraco", Travancinha, Lagares y Travanca "(adaptado de
travancinha.pt)
Coordenadas GPS: 40º 25'09.64''N, 7º 49'25,05''W
Botica (Pharmacy)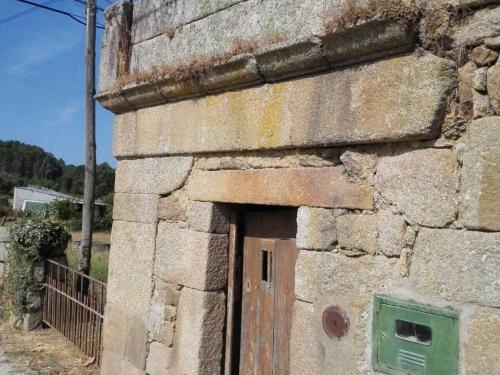 In the XVI century the Botica (pharmacy) that served the Council of Casal de Travancinha was located in this old building, very close to Chão do Rio, in its access road.
GPS  coordinates: 40º 25'16.54''N, 7º 49'25.21''W 
Our Lady of Help' Chapel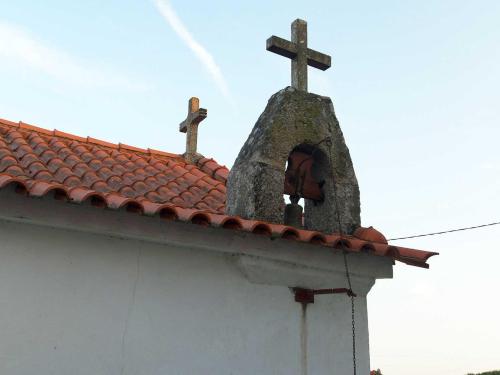 In this chapel located in the neighborhood of São Gião we can find the image of Our Lady of Help carved in granite, which gives name to the chapel. However, it is in homage to our Lady of Fatima, an image also present there, that the night procession of candles is carried out in which the Mordomas of the feast transport the image statue of our Lady of Fatima to the Parish Church, while praying the rosary and sing religious songs. In the next day, in a daytime festivity, the image returns to the chapel of Our Lady of Help, walking the streets of the village. This procession takes place on the following Saturday and Sunday to 13 May.
GPS coordinates: 40º 25'19.86''N, 7º 49'33.48''W  
João Brandão Rock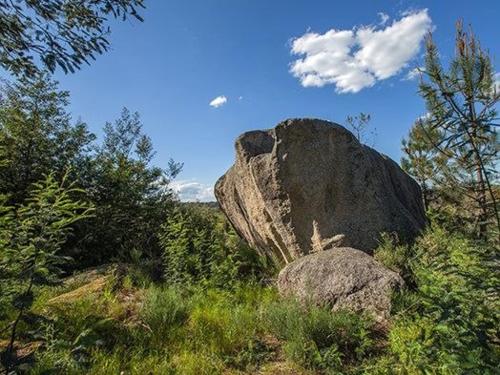 In Travancinha it is said that in the rock near the Municipal road, in a chair carved in the rock sat the famous João Brandão, a popular figure, known as the Beiras terror, waiting for his victims to pass the road ahead, to assault them and Loot
Born on March 1, 1825, in Midões (Casal da Senhora), his full name was João Víctor da Silva Brandão, being the son of Manuel Brandão, a blacksmith by profession. His father was the leader of a group of criminals, almost all of them of his family, who made a guerrilla struggle during the conflict between liberals and absolutists.

For decades João Brandão was a murderer, robbery and extortionist. He was arrested several times, but he had always been free and clear of his crimes, due to the protection of high-ranking, liberal-minded individuals whom a willing criminal was very useful. For this reason, his family ascended socially, that is why João Brandão belonged to the Chamber of Midões, between 1849 and 1853.
The establishment of peace and the centralization of the political administration led to the downfall of João Brandão, having finally, in 1869, been condemned in the Tábua court to the exile in Africa. Nevertheless, there he enjoyed all the privileges and created a prosperous factory of "aguardente" (kind of brandy).
GPS coordinates: 40º 25'28.97''N, 7º 50'36.34''W    
Seixinha Cave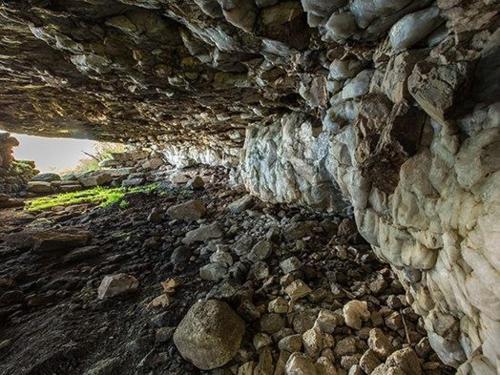 The Seixinha cave doesn't has its limits on the County of Seia. Beyond the Seixinha Cave, begins the county of Oliveira do Hospital. As we leave the main road, we enter a zone of great cliffs and a fantastic view over Serra da Estrela and the Seia River Valley. And soon we get a feeling that we are entering a mysterious place. In fact, when we look at the big boulder for a while, we can not imagine what we will find when we enter its small, half-hidden, entrance.
There we are dazzled by the beauty of white quartz stone. There is no document that reports its existence, or its purpose. But surely, it served as shelter to shepherds and their flocks in storm days.
GPS coordinates: 40º 25'36.02''N, 7º 50'45.26''W  
Roman Bridge
Beyond the limits of the municipality of Seia, near the parish of Travancinha, following the M507-1, towards Seixo da Beira, near the Seia River, there is a place of great beauty, known as Moinho do Buraco (hole mill). There, there is a water mill and the water of the river in its  passage has excavated the rock in great depth (forming big holes). Placed, next to the most recent bridge, that integrates the M507-1, there is a bridge of Roman origin. This bridge, like the roman path of Travancinha would integrate the route to  the "splendidissima civitas" of Bobadela. 
GPS  coordinates: 40º 25'39.04''N, 7º 50'58.51''W
Pedunculated Rocks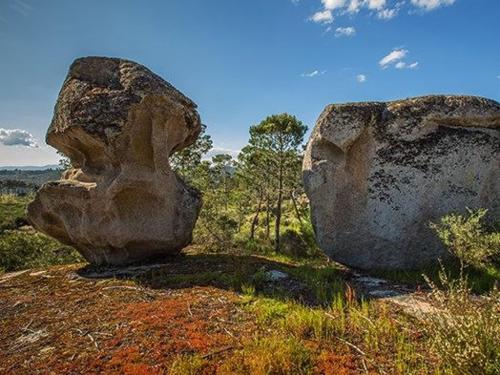 At the entrance of Travancinha there is a group of rock formations of high Geological value, being at the moment to be studied its possible classification.
Pedunculated rocks are rock formations resulting from the erosion caused by the action of the wind and the sands. Pedunculated rocks are thinner at the bottom than at the top. Being granite rocks, these existing rock in Travancinha, have acquired particular forms very funny (toothed apple and penguin).
GPS coordinates: 40º 25'35.28''N, 7º 49'54.24''W    
Borceda Pillar- Geodesic landmark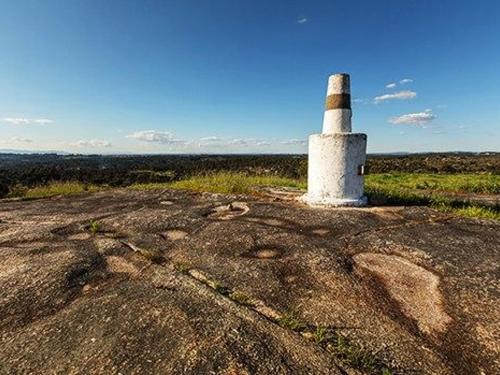 Known as "Pilar da Borceda" this is one of the two geodesic landmarks of Travancinha. The view is fantastic and from there it is possible to see three districts: Guarda, Coimbra and Viseu and several mountain ranges such as Estrela, Caramulo, Azores, Buçaco and Lousã. It is a priveliedge spot for astronomic observation.
GPS coordinates: 40º 25'37.96''N, 7º 49'23.54''W  
Double Centenary Cruise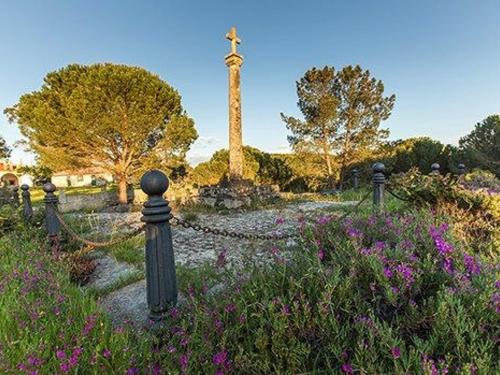 The date of its construction is unknown, but everything points to have been erected in the year 1840.

In 1940, the year in which Salazar, taking advantage of the celebrations of the "Double Centenary of Nationality" (Foundation of Nationality in 1140 and Restoration of 1640), in order to promote of the virtues of his regime, decided to launch a set of patriotic celebrations by all the country. The so-called "Commemorations of Centennial Commemorations" were set up to build the "Independence Cruises", with the aim of multiplying the existing double centenary cruises. The double centenary cruise of Travancinha was one of those that already existed.
GPS coordinates: 40º 25'27.08''N, 7º 48'46.30''W  
Our Lady of Virtues Chapel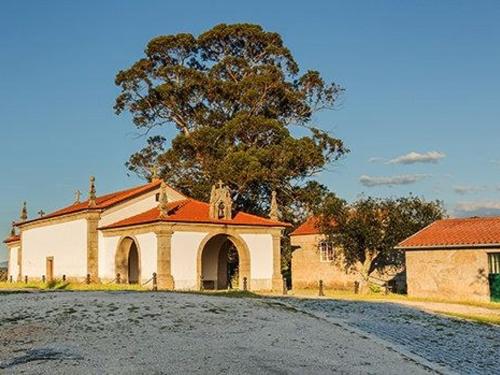 Our Lady of Virtues Chapel, was built by a nobleman from the area of the lower Mondego, in 1742. This nobleman traveled with his family to the thermal baths of Unhais da Serra, when, passing through Travancinha, had to stop due to the sudden illness of his son. He camped on the grounds now belonging to the Brotherhood of Our Lady of Virtues, and in the days that passed there, having the death of his son imminent, he promised to Our Lady that if she cured his son, in that place, he wood erect temple in her honor. The son overcame his illness and the temple was built.
 
Even today, during the fair of Saints, many persons arrive here coming from the region of that nobleman. Probably, this fair, is a sequence of a pilgrimage to Our Lady of the Virtues.
 
Located between Travancinha and the adjacent André Vale, it has its annual festival, in honor of Our Lady of Virtues, on the second Sunday of August.
GPS coordinates: 40º 25'28.28''N, 7º 48'44.33''W  
Capilla de San Sebastián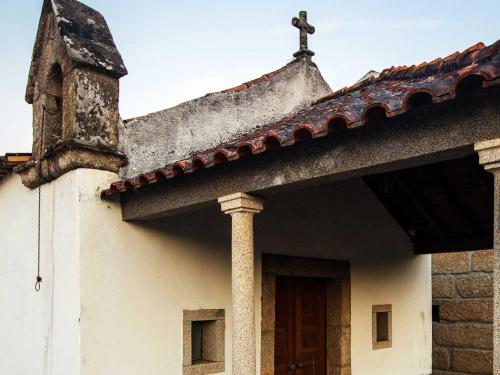 En esta pequeña capilla, situada en el barrio "Corro", se encuentra la imagen del mártir San Sebastián, así como la imagen del Señor de los Pasos.
Coordenadas GPS: 40º 25'15.39''N, 7º 49'16.44''W
Parroquia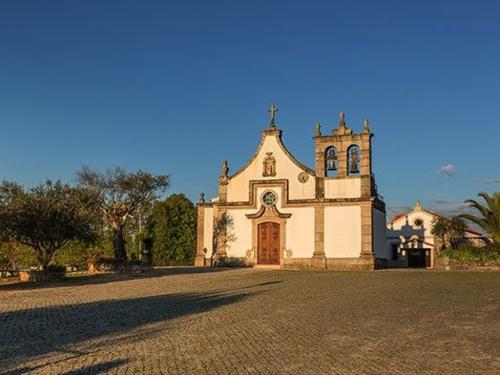 La gente de Travancinha tiene una naturaleza religiosa fuerte. La patrona del pueblo es Nuestra Señora del Rosario, que aparece en el altar mayor de la iglesia parroquial. Fuera de esta iglesia del siglo XVIII, en su fachada, hay una estatua de San Pedro, hecha de piedra.
Coordenadas GPS: 40º 25'11.10''N, 7º 49'12.70''W
"Alminhas" (lugar sagrado)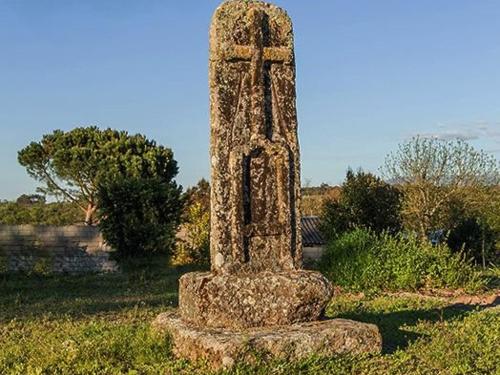 "Sigue al Concilio de Trento (1545-1563) que la Hermandad de las Almas es creada como una forma de institucionalizar la creencia en el Purgatorio y hacer cumplir la creencia de que las almas de los muertos saldrían del Purgatorio mucho antes si más oraciones y limosnas fueron hechas por los vivos.
Portugal es el único país que tiene en su patrimonio cultural el "Alminhas" (un tipo de santuario de camino), situado generalmente en el borde de caminos rurales, en encrucijada, dentro y fuera de los pueblos. Estas son representaciones populares de Almas en el Purgatorio que suplican oraciones y limosnas.
Hay muchas "Alminhas" en todo el país. En Travancinha hay cuatro. Hasta el siglo pasado, por ellos pasó, los peregrinos en el camino a Santa Eufemia. " YO
n travancinha.pt
Coordenadas GPS: 40º 24'58.62''N, 7º 49'03.34''W
Capilla de Nuestra Señora de la Salud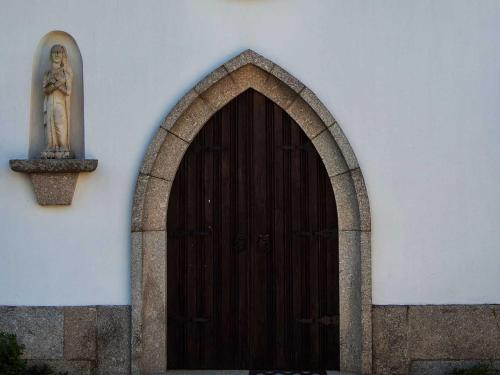 La Capilla de Nuestra Señora de la Salud ", antigua capilla de San Benito, patrona de las órdenes militares (antes perteneció al destacamento militar del condado de Casal), tiene su fiesta anual en honor a la Salud de la Virgen en la Domingo después de Pascua. "En
travancinha.pt
Coordenadas GPS: 40º 24'52.38''N, 7º 49'05.11''W
Picota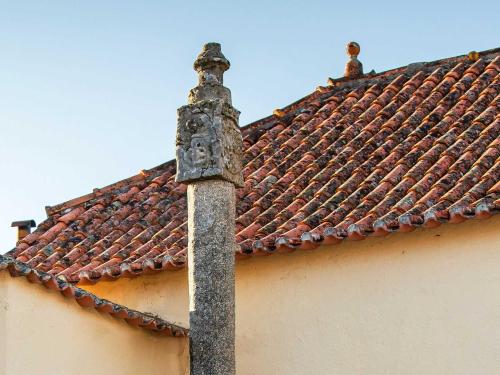 "Casal todavía tiene su picota, construida siguiendo la carta manuelina, se ha levantado antes de la casa de la antigua Comandancia. Se dice que originalmente estaba hecha de madera, como sucedió a menudo durante la Edad Media, pero que después de intentar robo, fue sustituido por el modelo presente hecho de piedra. "
En travancinha.pt
Clasificado como Monumento de Interés Público en 1933.
Coordenadas GPS: 40º 24'50.84''N, 7º 49'05.35''W
Chamber House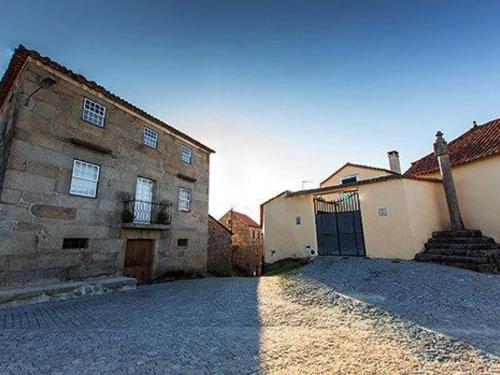 Casal de Travancinha was the county seat with a letter of foral (royal document that establishes a municipality) from D. Manuel I, in 1514. It was formed by the parishes of Travancinha, Sameice, Várzea de Meruge, São Paio de Codeço and Meruge. It had a Chamber house, a Court, a jail, a Military Detachment and a Botica (Pharmacy). It had a judge, procurator, and a secretary of registration.The date of its extinction is unknown, but in 1836 it was already a part of the municipality of Ervedal da Beira and remained there until July 24, 1855, when it became part of the municipality of Seia. Although in private possession, all those buildings still exist today. 
GPS coordinates: 40º 24'50.33''N, 7º 49'06.02''W
Comenda House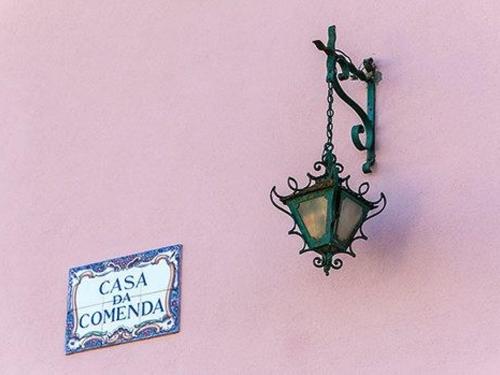 D. Dulce, wife of D. Sancho I (King of Portugal from 1185 to 1211), was the owner of the Comenda lands. Her daughter, D. Mafalda, heir to these lands, donated them to the Aviz Order. The house and its grounds, denominated Comenda until the present, belonged to the Aviz Order  (monastic military order) during three centuries. 
GPS coordinates:  40º 24'50.20''N, 7º 49'05.31''W
Secular fountain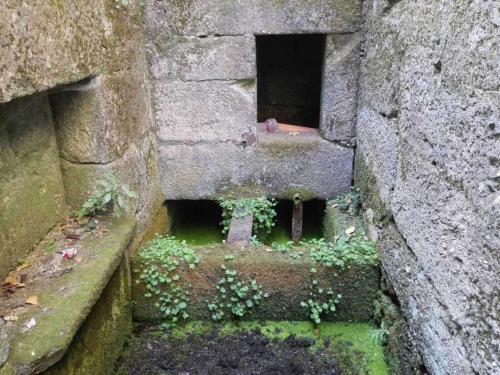 It is located in Casal, between the Comenda House and the Military Detachment.
For centuries, it has supplied water for the intire Casal village. After the 25 of April of 1974 (portuguese democratic revolution), was donated by the village Council, to the owners of the house where it was installed the  Military Detachment, in exchange for the extension of a street. Already in the XXI century, also by action of the village council, it returned to the public domain.
GPS coordinates: 40º 24'49.22''N, 7º 49'04.36''W  
Gallow's rock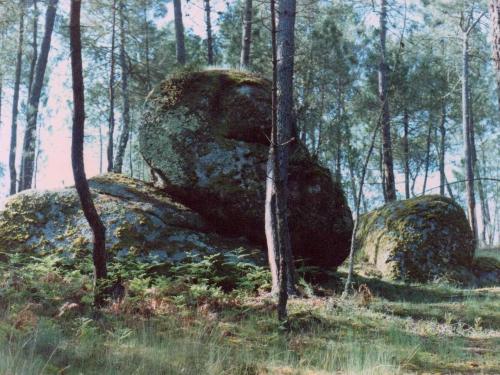 It is located in Casal, in a pine forest, behind a house called the Machine House. Until recently it had a ring of iron spiked into the top of the rock, where a rope was tied, that aimed to be tied around the condemned' neck, for  his execution.
GPS coordinates: 40º 24'44.17''N, 7º 48'48.61''W  
Court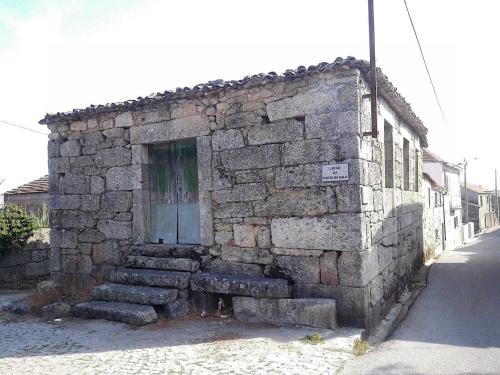 In the XVI century, it was in this small house that the crimes of Casal the Travancinha County were tried. The name given to the square where the building is located refers to the court, since it is called: door of the living room. In fact, it is the door that stands out in the windowless facade, which would be open during the judgments made there.
GPS  coordinates: 40º 24'50.74''N, 7º 49'13.08''W
Jail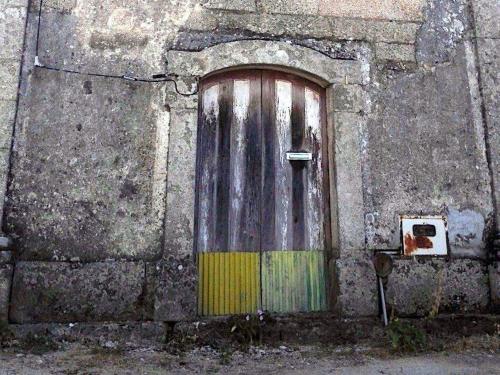 After the 1514 Foral, when Casal de Travancinha was considered as the county seat, and for about three centuries, the county's jail was installed in Travancinha, in the current neighborhood of Corro. From the end of the nineteenth century until the construction of the Centennial Plan schools, already in the twentieth century, it was there that the primary school functioned, before moving to private ownership.
GPS  coordinates: 40º 25'16.36''N, 7º 49'19.30''W